INFO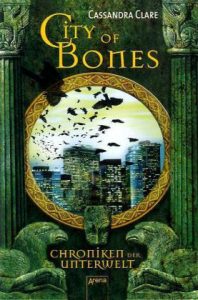 Band 1 – 13,99€ – Arena Verlag – TB – auch als eBook erhältlich – 504 Seiten – Fantasy – ISBN: 9783401502601 – ERSTERSCHEINUNG: 05.01.2008
Worum geht es?
Gut aussehend, düster und sexy. Das ist Jace.
Verwirrt, verletzlich und vollkommen ahnungslos. So fühlt sich Clary, als sie in Jaces Welt hineingezogen wird. Denn Jace ist kein normaler Junge. Er ist ein Dämonenjäger. Und als Clary von dunklen Kreaturen angegriffen wird, muss Clary schleunigst ein paar Antworten finden, sonst wird die Geschichte ein tödliches Ende nehmen!
Quelle
Warum war es auf meinem SuB?
Von den Chroniken der Unterwelt habe ich schon viel gehört, aber irgendwie ist diese Reihe immer an mir vorbei gegangen. Aber dann kam ich doch nicht mehr dran vorbei und musste es kaufen und von meinem SuB befreien.
Wie war es?
Cover:
Das Cover von City of Bones ist ein absoluter Hingucker und spiegelt sowohl Buchtitel als auch den Inhalt super wieder. Man bekommt einen ersten Einblick was einen erwarten wird und wird neugierig gemacht.
Eines meiner Lieblingscover.
Schreibstil:
Der Schreibstil von Cassandra Clare wurde ja bisher viel gelobt und als sehr mitreißend beschrieben.
Ich konnte mich sehr gut auf den Stil und das Buch einlassen. Clare schreibt sehr flüssig und angenehm.
Die Spannung wird an den richtigen Stellen aufgebaut und die Seiten lesen sich super weg. Trotzdem konnte ich das Buch auch mal weglegen und habe auch gleich wieder reingefunden.

Die Story:

Für Clary schien alles normal zu sein: Disko, Freunde treffen und Schule. Die üblichen Teenagerprobleme sind natürlich dabei nicht zu vergessen. Das Leben in New York hat aber nicht nur gute Seiten.
Im Pandemonium-Club trifft Clare auf den Schattenjäger Jace und seine Freunde. Damit steht ihr Leben völlig Kopf, denn sie hätte sie gar nicht sehen dürfen. Auch Vampire, Engel und Dämonen, die Kreaturen der Unterwelt, scheint es wirklich zu geben.
Doch anstatt Antworten zu bekommen, treten immer mehr Fragen auf und Clary steht vor schweren Entscheidungen.
Ist sie auch ein Schattenjäger oder ist das alles nur ein böser Traum?
Ein Wettlauf mit der Zeit beginnt, der tödlich enden kann..

Meine Meinung:

City of Bones ist der erste Teil der Chroniken der Unterwelt, die sechs Bände umfasst und abgeschlossen ist.
Nachdem ich so viel Gutes gehört habe, waren meine Erwartungen auch dementsprechend hoch.
Die Story hat mich von Anfang an sehr gereizt und so gespannter war ich auf die Umsetzung.

Clary ist eine sehr starke und auch impulsive Protagonistin. Nachdem ihre Mutter entführt wurde und sie selbst gegen die Wesen der Unterwelt kämpfen muss, merkt man, dass sie sich im Laufe der Geschichte immer weiterentwickelt und gegen die widersprüchlichsten Gefühle kämpfen muss. Leicht hat sie es definitiv nicht, da es scheint, dass alle gegen sie sind und sie nicht weiß wer Freund oder Feind ist.

Jace ist am Anfang der unnahbare und gut aussehende Schattenjäger. Fiese Sprüche, sehr von sich überzeugt und ein leicht arrogantes Auftreten haben mein Bild von ihm geprägt.
Aber in den unerwarteten Momenten scheint er sein wahres Ich zu zeigen und wird einem sehr sympathisch.

Am meisten haben mich die Wendungen und die Welt der Schattenjäger fasziniert. Immer wenn ich dachte, dass ich weiß wie es weitergeht oder in welche Richtung es geht, wurde ich eines besseren belehrt. Nichts ist wie es scheint und die Entwicklungen waren sehr vielseitig und für mich nicht vorhersehbar.

Der Humor kam hier nicht zu kurz und ich habe an viele Stellen herzhaft gelacht und konnte mich auch so viel besser in die Personen hineinversetzen.
Zudem sind die Charakteren vielseitig und haben alle ihre Ecken und Kanten. Niemand ist perfekt und alle machen Fehlern aus denen sie lernen müssen.

Die Perspektivwechsel und die Vergleiche, die sehr bildlich beschrieben wurden, haben mir einen interessanten Einblick in die unterschiedlichen Welten und Lebensweisen gegeben.

Doch der WOW-Effekt blieb bei mir aus.. Ich kann mich dem Hype einfach nicht anschließen.


Abschließend:

Auch wenn der WOW-Effekt bei mir ausgeblieben ist, finde ich die Story wirklich interessant und werde die Reihe definitiv weiterlesen.

Lieblingsstelle:

"Hör auf, so von oben herab mit mir zu reden."
"Tja, ich kann ja wohl schlecht von unten hinauf mit dir reden."
(S. 188, Z. 20-21)

Loading Likes...